All Items
>
CDs
>
[CD] Kodo - Akatsuki, Kodo 30th Anniversary Special Album
[CD] Kodo - Akatsuki, Kodo 30th Anniversary Special Album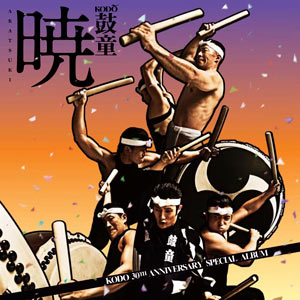 | | |
| --- | --- |
| Item Number | 29006 |
| Item Name | [CD] Kodo - Akatsuki, Kodo 30th Anniversary Special Album |
| Price in Japan | 3,038 YEN |
| Price Outside Japan | 2,762 YEN |
Amidst a chain of endless cascading vibrations, our world is filled with countless dawns. From this radiant cradle, a torrent of sound flows forth with great force into the unknown future.
It has been five years since our best-of album Heartbeat Best of Kodo 25th Anniversary hit the shelves and six years since our last all-original album prism rhythm was released. So this year we are extremely excited to put out a brand new album that captures the spirit of the group today and is sure to become a defining recording for Kodo in the next generation.
Recorded at Kodo Village, this 11-track disc includes brand new compositions as well as never-before-recorded stage pieces. Our favorite songs, polished in performance on countless stages worldwide, have been given new life through special arrangements that are only possible in a recording setting. Some new music was composed especially for this album, while other songs were born of collaboration with other artists. A few of the tracks showcase the captivating vocals of our female performers, while all eleven highlight Kodo's broad range of expression and individuality.
Listen to samples of all 11 tracks here: https://www.kodo.or.jp/discography/od006_en.html
Tracklist
TAMAYURA NO MICHI
STRIDE
AKATSUKI
YOSHINO NO YAMA
BURNING
VANGUARD
OGI OIWAKE
UZUSHIO
HONOKA
KACHI
SORA
Release Date: Feb. 20, 2012
Product Number: OD-006
Sales Agency: Otodaiku