All Items
>
Blu-ray & DVDs
>
[DVD] Kodo "Eternity"
[DVD] Kodo "Eternity"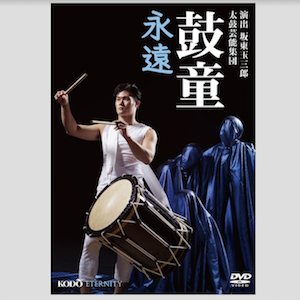 | | |
| --- | --- |
| Item Number | 20015 |
| Item Name | [DVD] Kodo "Eternity" |
| Price in Japan | 4,500 YEN |
| Price Outside Japan | 4,090 YEN |
The third production by artistic director Tamasaburo Bando, "Eternity," depicts human endeavors among the workings of nature, expressing glimpses of eternity as they manifest themselves. In this revolutionary work, Kodo uses the act of "beating a rhythm" to express a wide range of elements and emotions. The performers freely express themselves on taiko drums as well as numerous other percussion instruments, played with an array of drumsticks, including long bamboo rods and even their own hands and fists. All 13 brand-new compositions intertwine to conjure a radiant realm of natural phenomena, filled with endless possibilities: from the still of a starry night to the thunderous roar of a raging sea.
Released: June 6, 2015
Length: 109 mins.
Region Code: ALL (Can be watched in any locale on any player.)
Format: Color, NTSC
Specifications: Stereo, 5.1 CH. surround
Product Code: OD-014
Sales Agency: Otodaiku
Note: There are currently no plans for this DVD to be sold at general retail outlets. Please order from the Kodo Online Store or purchase at Kodo performance venues.
Featured Programme:
Yogiri
Asayake Gumo
Gosui
Seiten
Katarai
Ameyo Kazeyo
Miwaku
Takibi
Hinoko
Uruwashiki Mori
Michiru
Chokusen
Yondan
Encore: Chokusen