All Items
>
Blu-ray & DVDs
>
[DVD] Kodo "Sen no Mai"
[DVD] Kodo "Sen no Mai"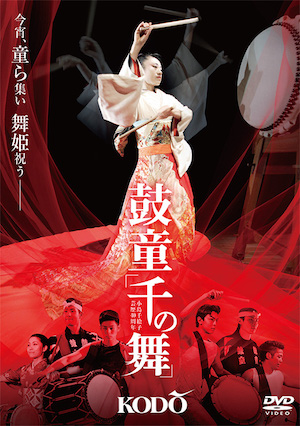 | | |
| --- | --- |
| Item Number | 20017 |
| Item Name | [DVD] Kodo "Sen no Mai" |
| Price in Japan | 4,950 YEN |
| Price Outside Japan | 4,500 YEN |
Chieko Kojima, Kodo's queen of dance, is a true pioneer. Spirited and free, she carved out her own unique genre as a female performer and continues to lead the way in dance-meets-taiko expression.
Chieko's insatiable inquisitiveness and active international solo career continue to inform her lifework. Adept at captivating audiences by conjuring bewitching realms on stage, in 2019 she drew on years of exploration and collaboration to direct this new work featuring Kodo, with Ryotaro Leo Ikenaga as music director.

Featuring: Kodo
Guest Artist: Shunsuke Kimura
Recorded: December 23, 2019 at Bunkyo Civic Hall Main Hall, Tokyo, Japan
Release Date: May 14, 2020
Media Type(s): DVD
Product Code: OD-022
Sales Agency: Otodaiku
Produced by: Chieko Film Project